Phew! That was a long caption 🙂 I had been thinking about sharing with you all the makeup products I use on a daily basis. My daily wear makeup is very minimal. Nothing very fancy shmancy. My focus is to look well-groomed and presentable.
I loathe to wear makeup on a daily basis. YES! I know this may come as a surprise to some of you what with me being a beauty blogger and all. But I do like reviewing products but I am NOT makeup obsessed 😉 I like to keep my skin clean and healthy and basically let it breathe. But whenever I do wear makeup these are the products I reach for.
I usually have to run errands like grocery shopping, household chores, pick and drop of children to the school etc things like that. And for such chores I don't glam up at all. No. Don't want to scare people off 😉 Also I usually have to rush out in max 10 to 15 minutes. So I keep things simple and basic, nothing complicated and time-consuming 🙂
So here are my top 10 products I like to use for a minimal makeup look.
Here goes:
SUNBLOCK
First up is a sunblock that I use which is a MUST for me and should be for all of you out there. Currently I am using and LOVING this sunblock plus primer which does an excellent job of priming the skin and providing sun protection from the sun's harmful rays. This gives the skin a smooth base and does an excellent job of keeping my makeup fresh and long-lasting even in super heat.
PRIMER
Sometimes I use this primer and sunblock separately. This is a very good drugstore primer. Not heavy on the pocket and conceals the pores beautifully. I also like the fact that it is super smooth and doesn't bunch up and makes the foundation or powder go on smoothly.
TRANSLUCENT POWDER
Rimmel Stay Matte Powder in the shade translucent is the love of my life. I am about to hit pan on this powder. It is so finely milled that it gives skin a gorgeous finish and looks seamless and even. It doesn't cake up or bunch up. Doesn't cling to dry patches at all. I can go on and on about the good attributes of this powder. It is simply awesome. I use to apply a BB cream but I have ditched it for every day for now. I only use this powder on top of my sunblock. This gives my skin a natural finish at the same time mattifies without making the skin look too dry.
BRONZER
Now bronzing up my face is optional frankly. If I have the time and if my face needs a bit of color and dimension I reach for the Balm cosmetics bronzer desert. It is a pretty good every day bronzer.
BLUSH
I mostly rotate between two blushes for my everyday wear. One being the Balm cosmetics FRAT BOY. This is a matt pink blush which is subtle yet pretty on the skin. For a light wash of color on the cheeks, this blush is perfect.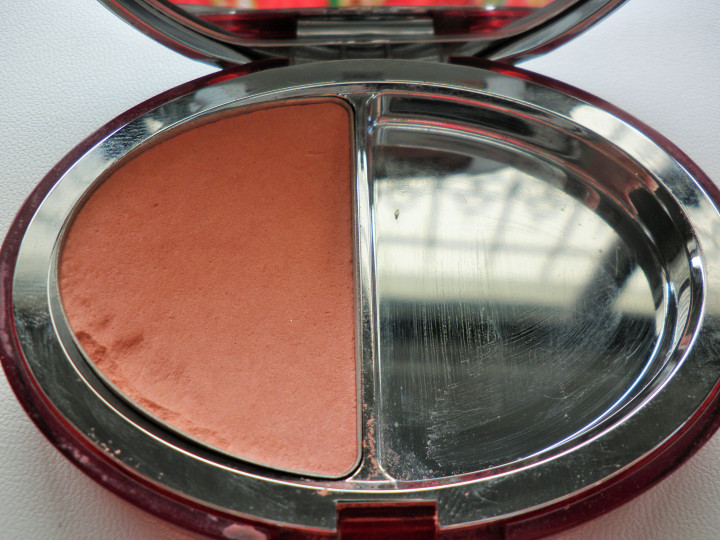 The second blush I reach for is a peach toned blush from Clarins. Unfortunately this is discontinued but you can find a similar type of blush in almost all the drugstore brands. Again, this is a very beautiful shade of peach which brings color and freshness to the face.
EYES
I don't fill my brows or do any eye-shadow but I do like to wear a nude pencil in my water line. This makes my eyes look wide and bright. As I wear glasses, this step really helps to open up my eyes and make them look awake.
Sometimes I also use a brown colored eye pencil just below my water line. I like to use brown as compared to black for my eyes as I feel it looks softer and subtle.
LIPS
I have used and abused this Revlon colorburst balm stain in the shade honey, so much and I still can't get enough of it. I like using this for every day wear practically the whole year come winter or summer because firstly its texture is like a soothing balm and it leaves behind a gorgeous stain on the lips. It is a deep mauve color which on application is a bit shiny but the shine goes away quickly. Staying power is pretty good and the stain it leaves behind is super pretty, like bee stung lips. I love it ❤
MAC Plumful is another favorite which I wear almost every day. This is a muted mid tone pink with a hint of plum. The finish is glossy but not sticky. It is super comfortable on the lips and looks lovely with practically every color of clothing 🙂
So there you have it, my ten most used makeup products for everyday makeup. What products do you reach for the most?
MAHA<3 ❤ ❤