I never thought I would own a violet shade of lipstick and carry it with aplomb. But thanks to Massarat Misbah Lip Varnish in Viola I could achieve this and not look silly 😉 I purchased this lip varnish with another shade MM Orange which I have reviewed HERE. Read on to know my thoughts on this sexy violet goodness.
Massarat Misbah launched two new shades this summer and as soon as I saw them, I literally ran towards the nearest Depilex salon(owned by Massarat Misbah) and bought them in seconds. No swatching, no prior research and I just grabbed these. Probably because somehow, in my heart I knew I would like them and I did.
Starting with the packaging which is matte black and light weight. It is sturdy and doesn't look cheap. On opening you will see the lip varnish encased in a shiny gold tube. How luxe!
The color is a pretty violet with hints of purple and pink. It is a beautiful color, which will complement a lot of complexions all over. It perks up the complexion and makes it look more alive and bright. I own nothing like this color in my makeup stash. And I am glad I have this now.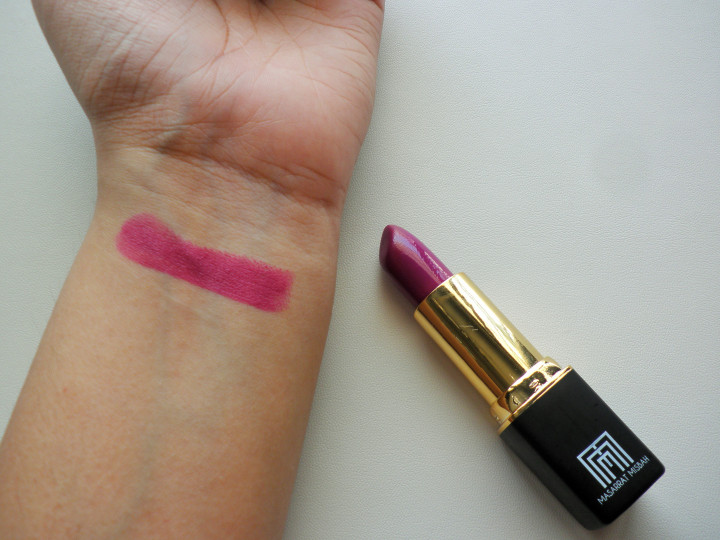 There is no noticeable or over powering scent. The color pay off is opaque. It glides like a dream on the lips and doesn't tug or skip. It is a very bright and bold color and stays for a good 6 to 7 hours on the lips with a meal. Leaves behind a gorgeous stain on the lips. Texture is creamy yet matte. Doesn't dry out the lips. It does tend to transfer a bit. To avoid that, line your lips then apply the color, blot and reapply.
All Massarat Misbah Makeup is Halal Certified and doesn't contain any harmful ingredients. This Lip Varnish is infused with Shea butter and Vitamin E. They have a net weight of 5 g e 0.18 OZ. They can be purchased from MassaratMakeup.com, just4girls.pk and Daraz.pk. The Lip Varnish retails for Rs.750/
I hope you liked the review. I adore this Lip Varnish. Do give this a go, you won't be disappointed 🙂
MAHA ❤ ❤ ❤