Liquid Lipstick wasn't my best friend some time back. I used to shy away from them, in-fact I ran away to the opposite direction multiple times, when I heard the word LIQUID LIPSTICK. Not anymore. I have come across some good and comfortable formulas which do not dry the lips out and stay put for hours. Kat Von D is one of those companies whose liquid lipsticks are very comfortable to wear with a wide range of color selection.
Last year, while on vacation I bought the shade Double Dare from Dubai. Read on to know all my thoughts on the product.
KAT VON D Ever Lasting Liquid Lipstick in DOUBLE DARE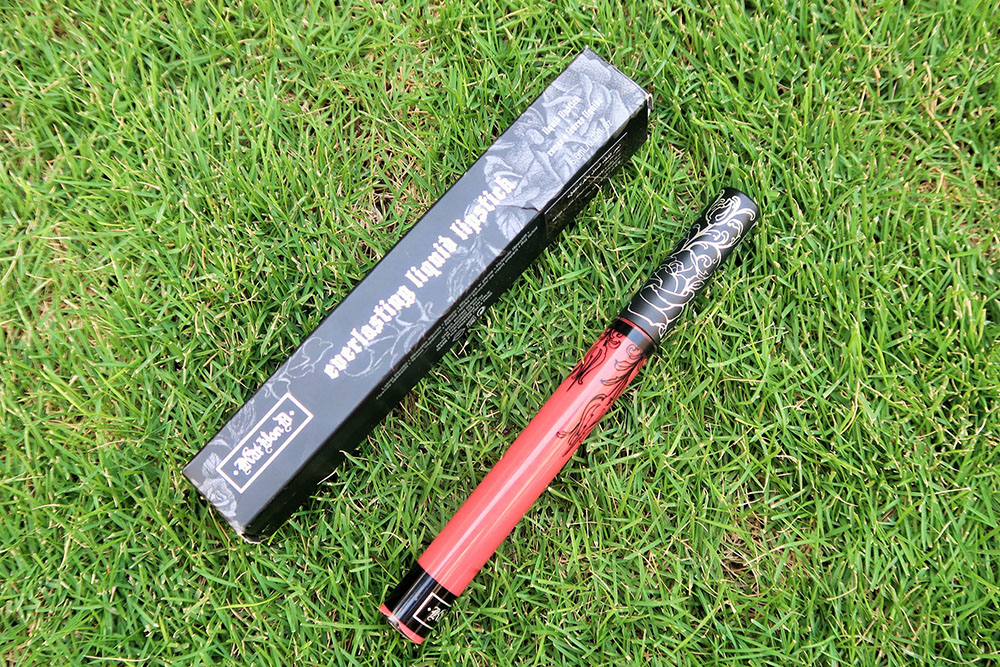 PACKAGING
The Liquid lipstick comes in a long tube which clearly shows the color of the product. The twist off black cap has silver rose drawing printed on. The outer packaging is black in color with Kat Von D Ever lasting liquid lipstick embosed in silver color on top.
COLOR
Double dare is the name of the shade. On the website it is described as a Cocoa Blush shade. On my lips it is slightly pink but leaning towards pink-y nude. The color has a warm under tone and a matte finish. It is permanent in the collection.
FRAGRANCE
There is no discernible scent or taste present.
STAYING POWER
Long wearing formula. It stays for a good 6 to 7 hours on my lips while having food and drink, oily food included. The formula is very light weight.
NET WEIGHT
6.6 mL/0.22 fl. Oz.
MADE IN
Italy
MY THOUGHTS
This happens to be my first liquid lipstick by Kat Von D. I have taken a liking to this product. Read on to know why:
The color pay-off is opaque and perfectly complements my medium fair skin-tone.
It has a sturdy and long wand.
Easy to use.
Doe foot applicator distributes the product nicely on the lips.
No smudging, cracking or peeling on the lips.
I feel no dryness on my lips post wearing this liquid lipstick.
Staying power is very good.
Glides beautifully on the lips without skipping or tugging.
The liquid lipstick can be layered without the product feathering out.
I felt most comfortable wearing this liquid lipstick. The shade is beautiful for South Asian Skin tones. I was always on the lookout for some good nudes and I am glad I have found this color.
This color pairs beautifully with a grey colored outfit.
PRICE
This liquid lipstick retails for $20.00
I hope you liked this post. Have you tried this product? What are your thoughts on it?
MAHA ❤❤❤