There is always an excitement and anticipation in the air when I do a Haul, be it micro or macro I jump up and down like a child specially when I receive it 😀 The not so thrilling part? Paying the bill 😉 Hehehe 🙂 Anyways I ordered some cool and much needed stuff from the website ENDULGING. There are only 3 products I ordered,  which I will be sharing with you all in this post.
Lately, more than makeup my interest has been shifting to skincare. Frankly it was always this way as I like a clean and well groomed look with a clear complexion, bright eyes and rosy cheeks and lips. This particular image always attracts me more than a full face of makeup. Hence, I am always upping my skincare game so as to achieve this image of natural and clean beauty. Keeping that in mind I ordered some stuff, 2 products of which I wanted to try for ages and another is a re-purchase.
Lets talk what I got…shall we?
GLAMGLOW SUPERCLEANSE DAILY CLEARING CLEANSER
This mud to foam cleanser  which comes in a pump dispenser bottle, has quickly become my HG product. My skin looks its best after I have used this cleanser. My skin literally glows like a 100 watt bulb 😉 First time I got this as part of the duo pack with the supermud clearing treatment mask(which happens to be an Ah-mazing and kick-ass mask  for clearing the skin 😀)  The first time I used it I could see my skin looking squeaky clean and smooth. I fell in love with it instantly. On the second day my skin continued to look good, it almost looked as if I have had a polishing treatment done on my skin…that good it shone.
In the duo pack, I got the small bottle of this. I am still using that bottle but I wanted a backup of it, that's how much I adore this stuff❤ I use this mostly as part of my thorough cleansing routine after I clean my full face of makeup. You just need a pump or two. I use this with my Foreo Luna and it works beautifully. Every single trace of makeup, dirt and grime comes off my face leaving behind an ultra clean and smooth skin ❤
This 150 g of bottle costed me Rs.4,500/ on the E ndulging website.
2. TARTE SHAPE TAPE Contour Concealer in Light medium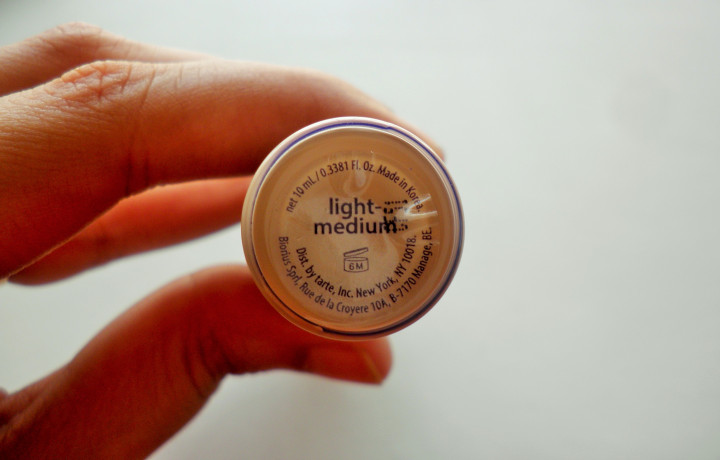 Every one in the beauty community has been buzzing about this super awesome concealer. I was in need of one, so I thought why not buy this baby and see what all the fuss is about? And boy, I can tell you this much, that on first impression this stuff is super cool. It is so pigmented and creamy and you need a tiny little amount to apply under the eyes.
It blends beautifully and seamlessly. To me based on first impressions, this is a full coverage concealer. My shade is light medium. I also like the packaging of this. The bottle is thick and the doe foot applicator is  BIG 🙂 
This net 10ml/0.3381 FL. Oz. costs Rs.3,900/ on the Endulging website.
3. KIEHL'S CLEARLY CORRECTIVE DARK SPOT SOLUTION
My skin suffers from hyper pigmentation and I am on a forever quest for products to help me fight my pigmentation issues. I had been eyeing this product for a while now and bought it when my pocket allowed me to 😉 This serum comes in a glass bottle with a dropper for dispensing the product. Its key ingredients are potent complex of Activated C, White Birch and Peony.
I have yet to try this product. Shall update you guys on its perfomance once I try it out. On the Kiehl's website this 1.0 fl. oz. – 30 ml costs for $49.50/
I have linked the websites, for further info kindly click on the links.
So that sums up my mini haul. Hope you liked it. Have you tried any of these products? Do share your thoughts if you have.
MAHA ❤ ❤ ❤