I wanted to get my hands on the LUSH BubbleGum Lip Scrub for a very long time and when I saw this online I grabbed it instantly. This Lip scrub has been my absolute go to for lip pampering 🙂 Read on to know my thoughts on this amazing product <3
LUSH BubbleGum Lip Scrub
This Lip Scrub is from an American Company called LUSH. They claim to use fresh ingredients and also claim that their products are hand-made 🙂
PACKAGING
The scrub comes in a transparent small glass jar with a black plastic cap to cover it. The jar is sturdy and of good quality. On top of the cap is the company's monogram with the instructions on how to use the scrub.
The scrub is of pink color .
On one side of the jar ingredients are mentioned and on the other side again detailed instructions are printed as to how to use the product.
Another aspect that looks interesting is that on the bottom of the jar they have mentioned who has prepared this product and when to use before it expires 🙂
INGREDIENTS
All the ingredients are fresh and vegan. The product is self preserving. It has fine castor sugar and moisturizing  organic jojoba oil.  You can check the ingredients in the picture below.
TEXTURE
The texture is like a fine sugar. Not too chunky and harsh.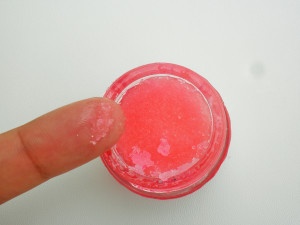 FRAGRANCE
It is self-explanatory, it has a sweet candy-like classic bubblegum scent which is not too strong and not too light.
HOW TO USE
On the jar it is instructed to " Scrub and buff your lips to softness, lick off the excess then apply your favorite LUSH Lip Balm "
How I use this? I basically take a pinch and apply on my already wet lips and scrub for about two minutes. Then I rinse off the excess. My lips turn smooth and soft and all the dead skin is gone 🙂
NET WEIGHT
0.8 oz. (25 g)
FINAL THOUGHTS 
This is an excellent product. I absolutely LOVE this. I have experienced no bad reactions on my lips. After using this, lips do become soft and crust free 😉
Though there is one thing I would add that do not let moisture or water enter the jar, because the scrub hardens and it becomes a bit difficult to work with it.
I would say it is great value for money as one needs very little to use.
PRICE
Rs. 1700/
$ 10.95
AVAILIBILITY
You can order this from their website LUSH or from any Facebook page.
Do try this Lip Scrub out and let me know your thoughts on it 🙂
Till next time
MAHA <3 <3 <3